SEPA Payment Direct Debit
SEPA PAYMENT DIRECT DEBIT
Table of contents
1. DOCUMENT REVISION HISTORY                      1
2. INTRODUCTION                      1
3. RELEVANT DOCUMENTS                      1
4. Customer setup                      1
4.1.                      Bank Account Setup                      1
4.2.                      Payment Instrument                      2
5. Direct debit menu                      3
6. User setup                      3
7. setup MANDATE FOr customer                      4
8. create sepa direct debit file                      6
8.1.      How to release invoices in case mistake has been made                      9
8.2.      Collection date in the file = GL date in the Create DD XML file batch                      9
8.3.          SEPA Direct Debit File sample                      11
1.DOCUMENT REVISION HISTORY
Rev:                      01                      Date of issue:                      2014.10.09                      Issued by:                      LSU
First issue.
Rev:                      02                      Date of issue:                                            Issued by:
2.INTRODUCTION
This document describes the SEPA Direct Debit process and setup in E1.
3.RELEVANT DOCUMENTS
The appendices and documents listed below are of essential value for the understanding of this document.
Appendices
No.                      Document no.                      Title
/1/
/2/
Document
Ref.                      Document no.                      Title
[1]
[2]
4.Customer setup
4.1.Bank Account Setup
Customer Bank Account must have:
IBAN,
SWIFT,
Bank Transit number,
The SEPA flag should be ticked,
Account must be marked as A/R Drafts, Auto Debit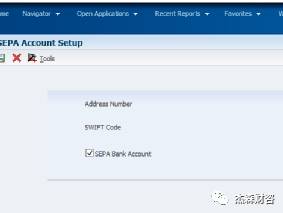 4.2.Payment Instrument
Payment Instrument should be set to "D" (Direct Debit)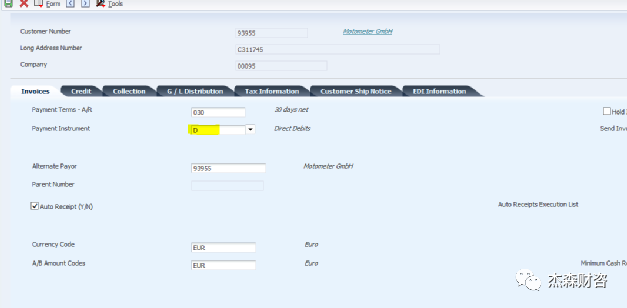 5.Direct debit menu
Direct Debit menu will be setup under Accounts Receivable->Daiy Tasks
Current sample illustrates the menu path for Germany: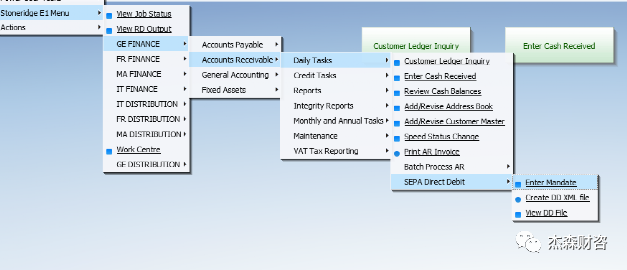 6.User setup
User must have localization activated under My System Options.
7.setup MANDATE FOr customer
Every customer that will have direct debit must have a mandate entered for them.
Go to SEPA Direct Debit Menu and choose Enter Mandate

Click ADD (+)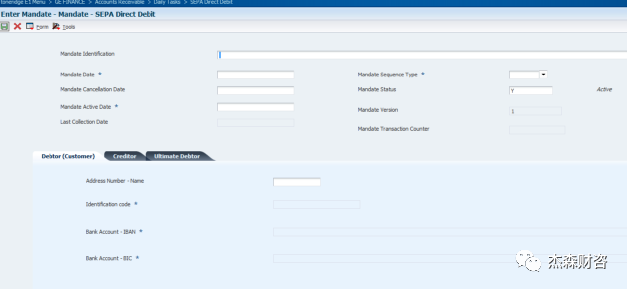 Enter following in the Header:
Mandate Identification – a number to identify the mandate, I would suggest using at least part of the customer number there
Mandate Date – date when mandate is entered
Mandate Sequence Type – RCUR (this is important and also effects the Requested Collection date in the file)
Mandate Active Date – date when this mandate becomes active (possible the date when the mandate is entered)

Enter in Debitor (Customer) tab:
Address Number – address number of the customer

Enter in Creditor tab:
Address Number-Name  -  our company number (For example 95 in case of Germany)
Scheme Identification:
Country Code, Verification Digit, Business Code and National ID
NB! This is different for each company, it is a specific SEPA ID number assigned from bank.

Enter in Ultimate Debtor tab:
Ultimate Debitor Address Number  - enter customer address book number (same as in Debtor tab)

Click OK

Mandate is entered
8.create sepa direct debit file
Go to SEPA Direct Debit Menu and choose Create DD XML File

Tick Data Selection and choose Submit
No changes needed in Data Selection, but if you want to run it for specific customer(s), then add Address Number selection

Click OK
NB! It is important to set the correct GL date!
In Processing tab, there is an option "Process Through Date", there you can set the date until what time the invoices are included into the batch. If left blank, then current date is used.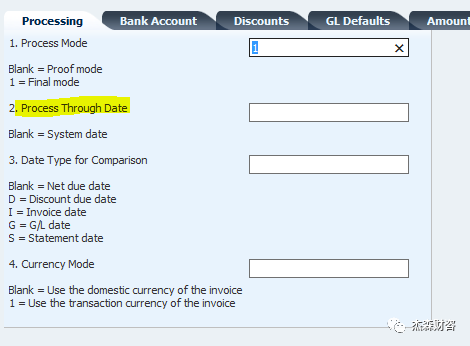 In GL Defaults tab
Set the correct GL date. In case of B2B recurring scheme it should be 1 Target Day+1 Calendar day. This means that the GL date should be set to two days from the date when file is loaded to bank. The calculation is in working days (holidays and weekends should be excluded).
Please also see chapter 8.2 in this document for explanation.

Click OK.

Click OK here as well.
When batch is done:
a)Invoices are in status P (Paid in full)
b)Batch is created
To review the file header, go to SEPA Direct Debit Menu and choose View DD File

To take the file, go to View Job Status. The job that you should look for is R743005

Click View Output to open the file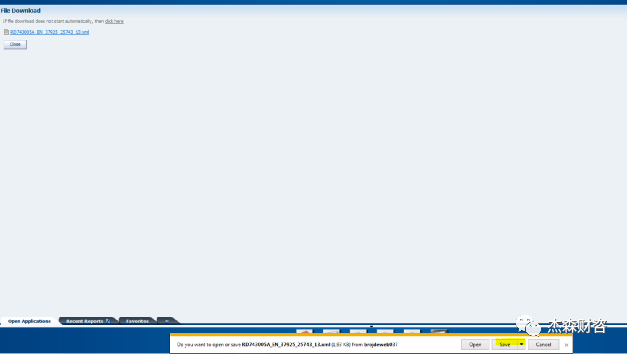 Save the file to the location that you will use later in the bank to load the file.
Then go to bank and proceed there with loading the file. Please see file sample in chapter 8.3 in this document.
In order to finalize the process in E1, batch should be posted.
Go to "Review Cash Batches" and search for un-posted batches

Post the batch.
Receipt is now posted. It can be reviewed from Receipt Entry, same as the regular Receipt.

8.1.How to release invoices in case mistake has been made
a)If the batch is not yet posted
Go to SEPA Direct Debit Menu and choose View DD File
Then look for the file that you created, select it and click Delete.

Invoices will be opened and set to status A (Approved for payment).
b)If batch is posted
Then the receipt document should be located and voided. Same as regular Receipt.
8.2.Collection date in the file = GL date in the Create DD XML file batch
In order to get the correct collection date in the file, the processing option should be updated each time when processing the batch. We are using scheme B2B and according to that the cut-off date should be 1 Target days minus 1 Calendar day. So if we send file today, then the GL date should be set to 2 days later. Sample: file is sent on 2014-11-10, then the GL date should be set to 2014-11-12 and Requested Collection date will be correct in the file. Calculation is in working days.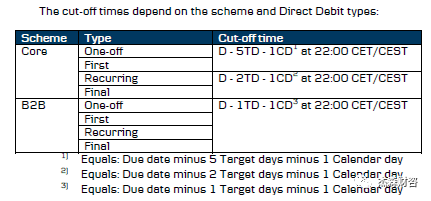 8.3.SEPA Direct Debit File sample